Turunkan Harga Barang: Bagus atau Tidak?
Reading Time:
4
minutes
Apakah 'Deflation' atau Deflasi? Deflasi adalah penurunan harga, samaada penurunan harga barangan ataupun perkhidmatan. Secara mudahnya, jika Inflasi = kenaikan harga barang, maka deflasi yang juga dikenali sebegai inflasi negatif = penurunan harga barang. Simple.
Maka, sekarang cuba bayangkan anda adalah pegawai yang bertugas di Jabatan Statistik Malaysia, dan anda sedang mengira indeks inflasi, iaitu indeks harga pengguna (CPI), maka anda akan catatkan perbelanjaan pengguna yang melibatkan 'basket of goods CPI' sebagai contoh – sewa rumah, harga pengangkutan, makanan, minyak dan sebagaimya dan lepas kira-kira semuanya, katakanlah secara purata, anda mendapati 'an average consumer' telah berbelanja sebulan sebanyak RM1000 untuk 'this basket of goods'.
Dan bila anda kira pula perbelanjaan purata bagi 'basket of goods' yang sama untuk bulan berikutnya, anda dapati perbelanjaan purata telah menurun kepada RM980.
Maka anda boleh lah membuat kesimpulan bahawa jumlah keseluruhan harga barang dan perkhidmatan CPI telah berkurang sebanyak RM20 ataupun anda juga boleh juga mengatakan bahawa ianya telah mengalami keadaan negatif inflasi@deflasi sebanyak 2%.
Jadi by now, harapnya anda boleh faham apa itu deflasi.
Walaupun jatuh harga@deflasi itu bunyinya macam bagus untuk para konsumer, namun harus diketahui bahawa deflasi sebenarnya adalah sesuatu yang tidak dikehendaki lebih-lebih lagi bila kita tengok dari konteks pertumbuhan ekonomi sesebuah negara. (cuma kat Malaysia je kita dok kalut nak turunkan harga barang).
Sebab apa Deflasi adalah sesuatu yang tidak dikehendaki dalam konteks pertumbuhan ekonomi sesebuah negara?
Di dalam persekitaran ekonomi yang standard, umumnya kita tahu bahawa pekerjaan akan memacu demand atau permintaan keseluruhan.
Mudahnya, jika kita mempunyai masyarakat konsumer yang mempunyai kadar pengangguran yang rendah, maka akan wujudnya lebih banyak pekerjaan yang dalam kata lain bermakna taburan upah atau gaji berada pada paras yang lebih tinggi yang akhirnya akan diterjemahkan kepada demand atau permintaan yang lebih tinggi.
Begitu juga sebaliknya, jika ramai kehilangan pekerjaan, ianya juga boleh mempengaruhi permintaan dimana ia akan menurun, kenapa pula?
Kerana apabila kehilangan pekerjaan, taburan upah atau gaji juga akan turut menurun, dan bila masyarakat konsumer tidak lagi mempunyai wang dalam kocek mereka, maka menurunlah permintaan. Oleh yang demikian pekerjaan memacu permintaan.
Membawa kita ke persoalan seterusnya, kalau pekerjaan mempengaruhi permintaan, permintaan pula mempengaruhi apa?
Permintaan akan mempengaruhi pula pengeluaran bagi bekalan atau supply dan juga mempengaruhi harga. Dan setiap daripada gelung pengaruh ini mempunyai "negative feedback"/tindak balas negatif.
Sekiranya permintaan adalah tinggi makanya ianya akan mempengaruhi harga untuk jadi tinggi, yang mungkin sebenarya menghasilkan 'negative feedback' keatas permintaan, di mana bila harga menjadi lebih tinggi atau mahal, secara naturalnya permintaan akan berkurang.
Manakala, katakan permintaan menjadi tinggi yang menyebabkan bekalan untuk turut naik tinggi 'to cater' permintaan tadi. Namun apabila bekalan menjadi terlampau tinggi pula. Maka secara naturalnya ianya akan menyebabkan harga turun, again another negative feedback.
Dan menutup 'loop' gelung persekitaran ekonomi yang melibatkan permintaan,bekalan dan harga ini, biasanya ketiga elemen tersebut akan memacu keuntungan syarikat mahupun korporat, yang mana kemudiannya akan memberi kesan semula kepada peluang pekerjaan.
Sekarang, anda sudah faham apa itu deflasi, dan juga sudah faham bagaimana gelung pertumbuhan ekonomi yang standard seperti diatas, sekarang cuba anda bayangkan satu scenario dimana kita berada didalam keadaan ekonomi yang buruk, kita boleh cuba untuk ubah mana-mana saja dari gelung ekonomi tersebut dan letakkan ia pada keadaan negatif.
Sebagai contoh kita ambil pekerjaan dan kita kata kadar pekerjaan adalah sangat rendah@ penggangguran tinggi, maka ia akan membuatkan permintaan juga menjadi sangat rendah. Dan jika permintaan benar-benar rendah, maka bekalan juga akan turun, dan tidak mustahil harga akan turun dan akhirnya membuat keuntungan turun yang mana menjadikan pekerjaan lebih rendah daripada titik mula tadi.
Pekerjaan ↓ → permintaan ↓→bekalan↓ + harga ↓ →untung ↓ → pekerjaan↓ ↓
Senario kemelesetan ekonomi seperti ini akan dipanggil lingkaran deflasi (deflationary spiral). Kesimpulannya ia adalah lingkaran ekonomi yang buruk di mana walaupun ia menyebabkan harga barangan dan perkhidmatan untuk menjadi lebih rendah, namun dalam masa yang sama ia juga boleh menjejaskan gelung ekonomi secara keseluruhannya.
Lebih buruk lagi, jika keadaan penurunan harga ini berterusan cukup lama, ataupun jika penurunan harga itu adalah signifikan, kita boleh membayangkan untuk orang berkata.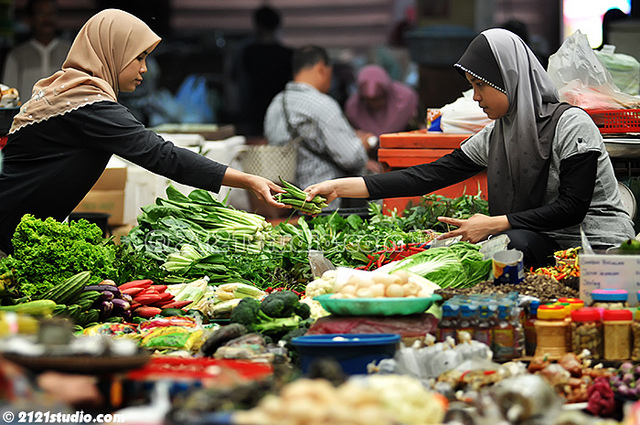 "Eh, saya mempunyai RM10 dalam poket saya, namun saya tidak akan belanja duit saya ini kerana – 1.saya mungkin kehilangan pekerjaan saya pada bila-bila masa, dan 2. Saya tahu bahawa duit saya semakin kuat, makin lama saya simpan dan tunggu, makin banyak yang boleh saya beli"..
Mudah kata orang lebih suka menyimpan wang dari membeli barang, benda ni para economist panggil 'money hoarding'. Dan dari pada akitviti 'money hoarding inilah', maka harga barang makin turun sebab takda permintaan, pekerjaan makin kurang sebab untung makin berkurang so on and so forth.
Jadi bila dah faham apa itu deflasi..agak-agak nak harga barang turun lagi atau tidak?
Ditulis oleh: Saudara Khairul Azri