Perlumbaan Menjadi Super App Di Asia Tenggara, Siapakah Yang Akan Menang?
Reading Time:
4
minutes
---
Go-Jek menyediakan 18 jenis perkhidmatan seperti Go-Food, Go-Glam, Go-Tix dan Go-Massage

Grab akan menawarkan perkhidmatan pinjaman mikro melalui kerjasama dengan Credit Saison
---
Go-Jek dan Grab bermula sebagai syarikat yang menyediakan perkhidmatan e-hailing. Tetapi kedua-dua start-up ini mempunyai visi yang lebih besar, bukan sekadar menyediakan perkhidmatan bagi membantu pelanggan bergerak daripada satu destinasi ke destinasi yang lain,tetapi menjadi satu ekosistem yang membantu pelanggan dalam kehidupan seharian.
Matlamat utama mereka adalah untuk menjadi super app yang digunakan masyarakat Asean dalam kehidupan seharian mereka.
Perlumbaan untuk menjadi super app yang terbaik di rantau ini telah bermula. Jika anda lihat kepada perkhidmatan yang ditawarkan Grab hari ini, mereka telah mula menambahkan perkhidmatan lain seperti perkhidmatan penghantaran makanan dan e-wallet.
Go-Jek turut menawarkan perkhidmatan yang hampir sama dengan Grab. Apa yang lebih menarik, kini Go-Jek dan Grab turut menyediakan perkhidmatan kewangan seperti pinjaman mikro dan insuran.
Perjalanan Grab
Grab bermula sebagai MyTeksi pada tahun 2012. Mereka menerima dana sebanyak USD 25,000 daripada Harvard Business School dan dana peribadi pengasasnya, Anthony Tan bagi memulakan bisnes ini.  
Kemudiannya pada tahun 2013, GrabTaxi dilancarkan di Filipina, Singapore dan Thailand. Meneruskan lagi penguasaannya di pasaran Asia Tenggara, GrabTaxi mula memasuki pasaran Indonesia dan Vietnam pada tahun 2014.
Menjelang Mei 2014, Grab memperkenalkan GrabCar yang telah membuka peluang pekerjaan kepada ribuan pemandu Grab. Pada tahun yang sama juga Grab memperkenalkan pula perkhidmatan GrabBike di Ho Chi Minh. Perkhidmatan GrabBike terus berkembang ke Indonesia dan Vietnam pada tahun 2015.
Grab seterusnya hadir dengan visi baru untuk menjadi platform bayaran digital yang terbaik di Asia Tenggara dengan melancarkan GrabPay Credit, e-wallet bagi aplikasi Grab pada November 2016.
Seterusnya mereka membeli Kudo, sebuah start-up Indonesia yang menyediakan platform e-commerce 020 (online to offline). Terkini Grab baru sahaja melancarkan GrabPay awal tahun ini yang membenarkan penggunanya membuat bayaran di kedai-kedai terpilih. Bagi projek GrabPay, Grab bekerjasama dengan Maybank di mana GrabPay juga boleh digunakan di kedai yang membenarkan bayaran melalui kod QR Maybank.
Baca: Grab Disaman RM19.36 Juta & Rider Lancar Mogok
Tahun ini juga Grab telah mengambil alih pesaingnya, Uber dan menjadi sebuah kuasa monopoli dalam sektor perkhidmatan kenderaan e-hailing di rantau Asia Tenggara. Langkah ini sudah semestinya menjadi kelebihan kepada Grab kerana mereka juga berpotensi menguasai pasaran perkhidmatan penghantaran makanan dengan pengambil alihan Uber Eats.
Untuk memastikan kewujudannya terus relevan, baru-baru ini Grab telah mendedahkan pelan strategiknya yang lebih luas berbanding sekadar menawarkan perkhidmatan kenderaan dan hantar makanan sahaja.
Pelan strategik itu pula diumumkan dalam satu acara Money 20/20 Asia di Singapura. Dalam acara itu, Grab mengumumkan untuk menawarkan perkhidmatan pinjaman mikro melalui satu kerjasama baharu dengan syarikat kewangan pengguna dari Jepun, Credit Saison.
Melalui kerjasama ini, jenama baharu yang akan diperkenalkan adalah 'Grab Financial Services Asia'. Perkhidmatan pinjaman ini akan menyediakan insurans yang mana kumpulan pelanggan sasaran adalah pemandu dan pelanggan Grab.
Baca: [Analisa] Pelan Seterusnya Buat Grab: GrabPay atau GrabFood?
Perjalanan Go-Jek
Go-Jek diasaskan pada tahun 2010 oleh Nadiem Makarim dengan kehadiran 20 pemandu sahaja pada permulaannya. Melihat kepada masalah sama yang dihadapi industri teksi, Nadiem cuba memberikan solusi kepada perkhidmatan ojek (teksi motorsikal) di Indonesia.
Selepas 5 tahun barulah mereka melancarkan aplikasi mereka dan perkhidmatan Go-Jek terus mendapat sambutan hangat di Indonesia.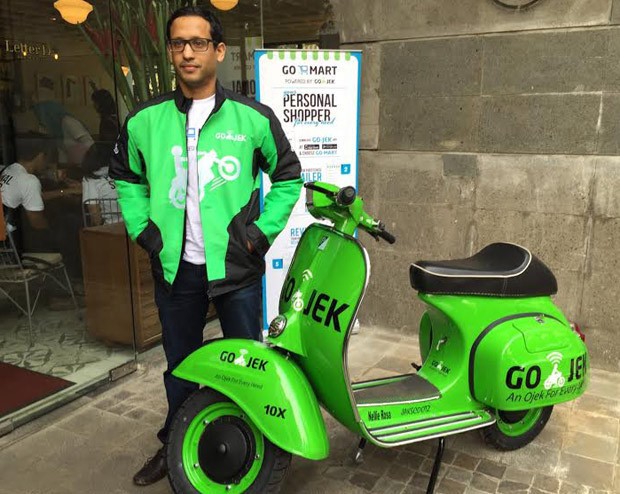 Tidak cukup setakat itu, Go-Jek tidak mahu menjadi sekadar syarikat yang menyediakan perkhidmatan e-hailing sahaja. Tanpa melengahkan masa mereka terus memperkenalkan perkhidmatan lain seperti penghantaran makanan (Go-Food), perkhidmatan kecantikan (Go-Glam), penempahan tiket (Go-Tix) dan perkhidmatan mengurut (Go-Massage).
Setakat ini, Go-Jek menyediakan 18 perkhidmatan kesemuanya.
Apa yang menarik mengenai Go-Jek adalah strategi mereka dalam menguasai pasaran. Antaranya adalah dengan mengambil alih dan menjadi rakan kongsi bagi beberapa syarikat start-up.
Melalui kerjasama mereka dengan syarikat teksi Indonesia, Blue Bird, mereka melancarkan perkhidmatan e-hailing bagi kereta (Go-Car). Manakala bagi sistem GPS mereka, mereka melakukan kerjasama dengan Google.
Sebanyak 9 syarikat yang telah diambil alih Go-Jek setakat ini. Melalui pengambil alihan MVCommerce pada tahun 2016, Go-Jek kini mempunyai lesen untuk melancarkan e-wallet mereka, Go-Pay.
Tahun ini, dengan dana sebanyak USD 500 juta, Go-Jek mula beroperasi di Vietnam (Go-Viet) dan Thailand (Get). Pada akhir tahun ini, mereka akan memulakan operasi beta di Singapura.
Melihat kepada masalah rakyat Indonesia yang kebanyakannya masih belum mempunyai akaun bank, Go-Jek berkerjasama dengan Findaya, Dana Cita, and Aktivaku bagi menyediakan perkhidmatan pinjaman mikro dan insuran.
Siapakah yang bakal menguasai pasaran?
Kedua-dua syarikat ini telah membuktikan kejayaan awal dengan mencapai status unicorn (start-up bernilai USD 1 bilion), Grab pada tahun 2014 dan Go-Jek pada tahun 2016.
Pertumbuhan pesat syarikat ini telah berjaya menarik perhatian pelabur dari seluruh dunia. Grab melalui 8 siri pendanaan mendapat dana sebanyak USD 6.6 bilion dan Go-jek melalui 7 siri pendanaan berjaya mendapat dana sebanyak USD 3.3 bilion.
Dijangkakan bahawa 52% daripada pasaran e-commerce Asia Tenggara dikuasai Indonesia menjelang 2025. Berdasarkan anggaran ini, Go-Jek dilihat lebih mudah untuk menguasai pasaran kerana mereka bermula di Indonesia dan mengusai pasaran Indonesia buat masa ini.
Di samping itu, Go-Jek menyediakan lebih banyak perkhidmatan perkhidmatan (all in one) berbanding Grab.
Walaupun Go-Jek dilihat lebih berpotensi untuk menguasai pasaran Indonesia, tetapi jika mereka kurang fokus kepada perkembangan di negara luar, mereka akan kalah kepada Grab. Buat masa sekarang Grab telah beroperasi di 6 buah negara berbanding 4 buah negara bagi Go-Jek.
Siapakah yang akan menang dalam perlumbaan menjadi super app di pasaran Asia Tenggara?