Konten Adalah Raja, Ini Sebab Netflix Akan Mati
Reading Time:
3
minutes
---
Pada tahun 2018, Netflix telah mencatatkan hasil pendapatan sebanyak USD15 bilion
Disney+ akan menerbitkan siri berdasarkan karakter Cassian Andor dan The Mandalorian dari Star Wars serta Loki dari Marvel
---
Syarikat gergasi media hiburan seperti Disney dan WarnerMedia adalah antara nama-nama besar yang akan melancarkan perkhidmatan "streaming" untuk mencabar dominasi Netflix.
Netflix yang mula diasaskan pada tahun 1997 di California merupakan penyedia perkhidmatan TV internet terbesar dunia dengan bilangan keahlian (memberships) melebihi 130 juta dan hasil pendapatan yang mencecah sehingga USD15 bilion pada tahun 2018.
Pada awal penubuhan, Netflix hanyalah menjalankan perniagaan dengan menyediakan perkhidmatan sewaan DVD dan cuma mula melancarkan perkhidmatan streaming pada tahun 2007.  Kehadiran Netflix dalam dunia media dan hiburan ternyata telah mendatangkan bahaya terutama kepada stesen TV berbayar dan ini terbukti melalui data yang telah dikeluarkan MoffettNathanson di mana pelanggan stesen TV berbayar di Amerika Syarikat telah menurun kepada 90 juta berbanding 97 juta pada dua tahun lepas.
Sebagai rekod, Netflix bukanlah satu-satunya penyedia perkhidmatan TV internet ini sebaliknya terdapat juga beberapa pemain lain seperti Prime Video yang dimiliki Amazon serta Hulu. Dengan pakej serendah USD10 setiap bulan, ia dilihat sebagai sesuatu yang tidak membebankan buat orang ramai untuk melanggan salah satu daripada perkhidmatan TV internet ini.
Di Amerika Syarikat, lebih 73 juta isi rumah dilaporkan melanggan sekurang-kurangnya satu perkhidmatan streaming TV internet dan angka ini dijangka akan terus meningkat lagi pada masa hadapan.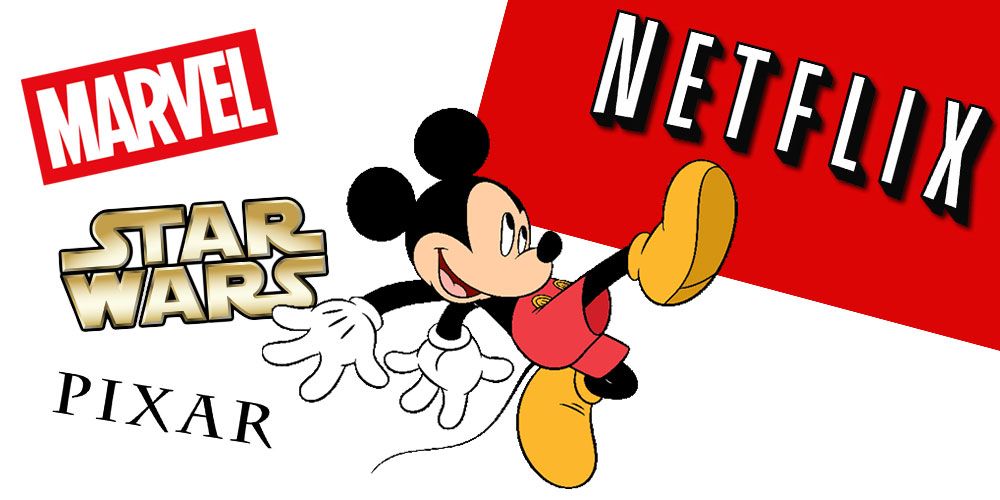 Apa sebenarnya punca kejayaan Netflix hingga berjaya duduk sebaris dengan syarikat gergasi media hiburan yang lain?
Sudah pasti kelebihan yang dimiliki Netflix adalah pada konten mereka yang tidak ditawarkan di mana-mana stesen TV lain. Sebagai contoh, siri original yang dihasilkan Netflix sendiri ialah House of Cards dan Orange is The New Black. Kedua-dua rancangan ini telah menjadi hit bukan sahaja di Amerika Syarikat malahan seluruh dunia. Filem original mereka, Bird Box turut meraih perhatian apabila dilaporkan 45 juta pelanggan Netflix menonton cerita ini dalam tempoh 7 hari pertama selepas dikeluarkan.
Tetapi kini Netflix tidak boleh lagi duduk selesa kerana Disney dan WarnerMedia akan turut melancarkan perkhidmatan streaming TV internet sendiri. Ini bermakna, beberapa konten yang sebelum ini ditawarkan di Netflix pasti akan ditarik balik seperti filem-filem keluaran Marvel dan juga beberapa siri lain.
Disney dilaporkan akan melancarkan perkhidmatan streaming yang dikenali sebagai Disney+ pada penghujung tahun 2019. Dan semestinya Disney akan mengambil kesempatan untuk melancarkan konten melalui francais filem-filem mereka yang sudah popular. Bukan itu sahaja, dengan perjanjian pembelian 21 Century Fox oleh Disney yang dijangka akan diselesaikan pada penghujung Mac 2019, ia sudah pasti memberikan satu lagi kelebihan kepada Disney untuk menerbitkan rancangan melalui watak-watak filem dari Marvel, X-Men, Fantastic Four dan Deadpool.
Perkhidmatan streaming yang bakal ditawarkan WarnerMedia juga pasti tidak kurang hebatnya kerana mereka memiliki konten popular dari HBO seperti Game of Thrones dan juga francais filem Harry Potter.
Sepanjang tahun 2018, Netflix dilaporkan telah membelanjakan sekitar USD12 billion untuk penghasilan konten mereka sendiri. Mereka turut berbelanja besar bagi kos pemasaran dengan jumlah sebanyak USD2.37 bilion. Bagi tahun 2019 pula, penganalisa meramalkan Netflix akan berbelanja sebanyak USD15 bilion bagi menghasilkan konten serta USD2.9 bilion bagi kos pemasaran.
Namun, adakah ia mencukupi untuk Netflix bersaing dengan Disney dan WarnerMedia? Dengan kontrak Disney dan Netflix akan berakhir hujung tahun ini, ia menjadi penanda bahawa tahun depan tiada lagi filem-filem dimiliki Disney di Netflix. Disney juga telah mengesahkan akan menerbitkan siri berdasarkan karakter Cassian Andor dan The Mandalorian dari Star Wars serta Loki dari Marvel melalui perkhidmatan Disney+. Dengan perkembangan ini, adakah Netflix mampu untuk terus bersaing atau akan terus merudum dan akhirnya mati di tengah jalan?